Home > Topics > Microsoft Office > Other applications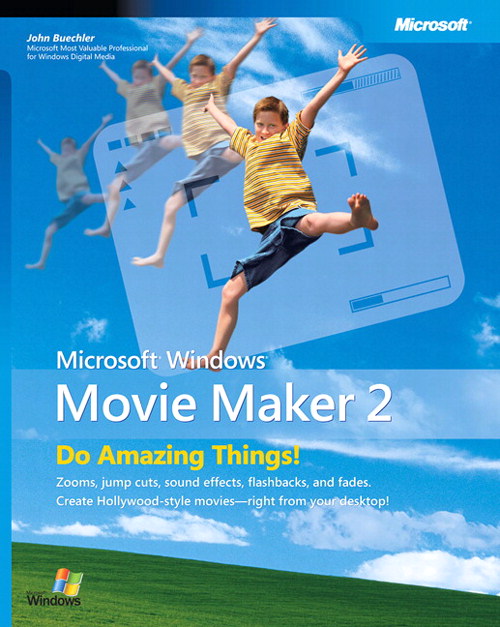 Register your book to access additional benefits.
Microsoft Windows Movie Maker 2: Do Amazing Things
Book
Not for sale
This product currently is not for sale.
Published 12/10/2003
1st Edition
So let's go! Roll camera, shout action, and amaze yourself with all you can do with Microsoft Windows Movie Maker 2. Fun, focused, and easy to follow, this guide shows how to dive right into your first or next movie, complete with special effects, voiceovers, credits, even a full soundtrack—right from your computer. Using simple drag-and-drop moves—and the guidance of a Windows Movie Maker expert—you'll produce many of the same impressive effects you see on the big screen every day. Plus, you'll get cool project ideas and all the how-to's for putting your filmmaker's imagination to work!
Start with the best shots
Capture new video—even reuse your VHS footage
Drag scenes into a storyboard or timeline, shape your story in minutes!
Build a library of audio, video, and still images
Add awesome effects
Make cinema-style transitions, such as fades, dissolves, and wipes
Easily create titles, crawls, and credits
Amplify your story with narration, music, and sound effects
Perfect it, then present it!
Use easy tools to fine-tune your audio and video
Premiere your movie on a PC or over the Web
Burn your production to a CD or DVD
Shake your Movie Maker
Create a highlights "reel" of favorite moments
Document your family's roots with photos, news clippings, and interviews
Produce fun movie trailer parodies
Create video karaoke for your PC
Can you do amazing things? Yes you can!
For customers who purchase an ebook version of this title, instructions for downloading the CD files can be found in the ebook.
Other titles you might like

eBook (Watermarked) $19.99


eBook (Watermarked) $19.99