eBook Deal of the Week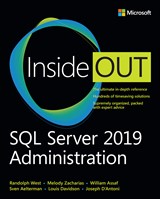 SQL Server 2019 Administration Inside Out
By Melody Zacharias, Randolph West, Joseph D'Antoni, William Assaf, Louis Davidson, Sven Aelterman
Published Mar 11, 2020
Conquer SQL Server 2019 administration-from the inside outDive into SQL Server 2019 administration-and really put your SQL Server DBA expertise to work. This supremely organized reference packs hundreds of time-saving solutions, tips, and workarounds-all you need to plan, implement, manage, and secure SQL Server 2019 in any production environment: on-premises, cloud, or hybrid.
Terms & conditions
Each week, on Sunday at 12:01 AM PST / 7:01 AM GMT, a new eBook is offered for a one-week period. Check back each week for a new deal.
eBook Deal of the Week may not be combined with any other offer and is not redeemable for cash.