eBook Deal of the Week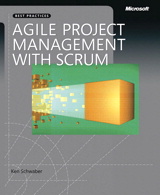 Agile Project Management with Scrum
By Ken Schwaber
Published Feb 11, 2004
192 pages
The rules and practices for Scrum--a simple process for managing complex projects--are few, straightforward, and easy to learn. But Scrum's simplicity itself--its lack of prescription--can be disarming, and new practitioners often find themselves reverting to old project management habits and tools and yielding lesser results.
Terms & conditions
Each week, on Sunday at 12:01 AM PST / 7:01 AM GMT, a new eBook is offered for a one-week period. Check back each week for a new deal.
eBook Deal of the Week may not be combined with any other offer and is not redeemable for cash.