eBook Deal of the Week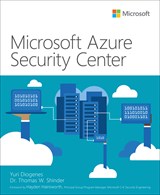 Microsoft Azure Security Center
By Tom Shinder, Yuri Diogenes
Published Jun 04, 2018
224 pages
Microsoft Azure Security Center presents comprehensive techniques for using Azure Security Center to protect cloud and hybrid environments. Leading Microsoft security and cloud experts Dr. Thomas Shinder and Yuri Diogenes thoroughly introduce the full spectrum of security features and capabilities available in Azure Security Center, and demonstrate how to apply them in key operational scenarios to address all elements of protection, detection, and response.
Terms & conditions
Each week, on Sunday at 12:01 AM PST / 7:01 AM GMT, a new eBook is offered for a one-week period. Check back each week for a new deal.
eBook Deal of the Week may not be combined with any other offer and is not redeemable for cash.