Exam Ref 70-697 Configuring Windows Devices with Practice Test
9781509301492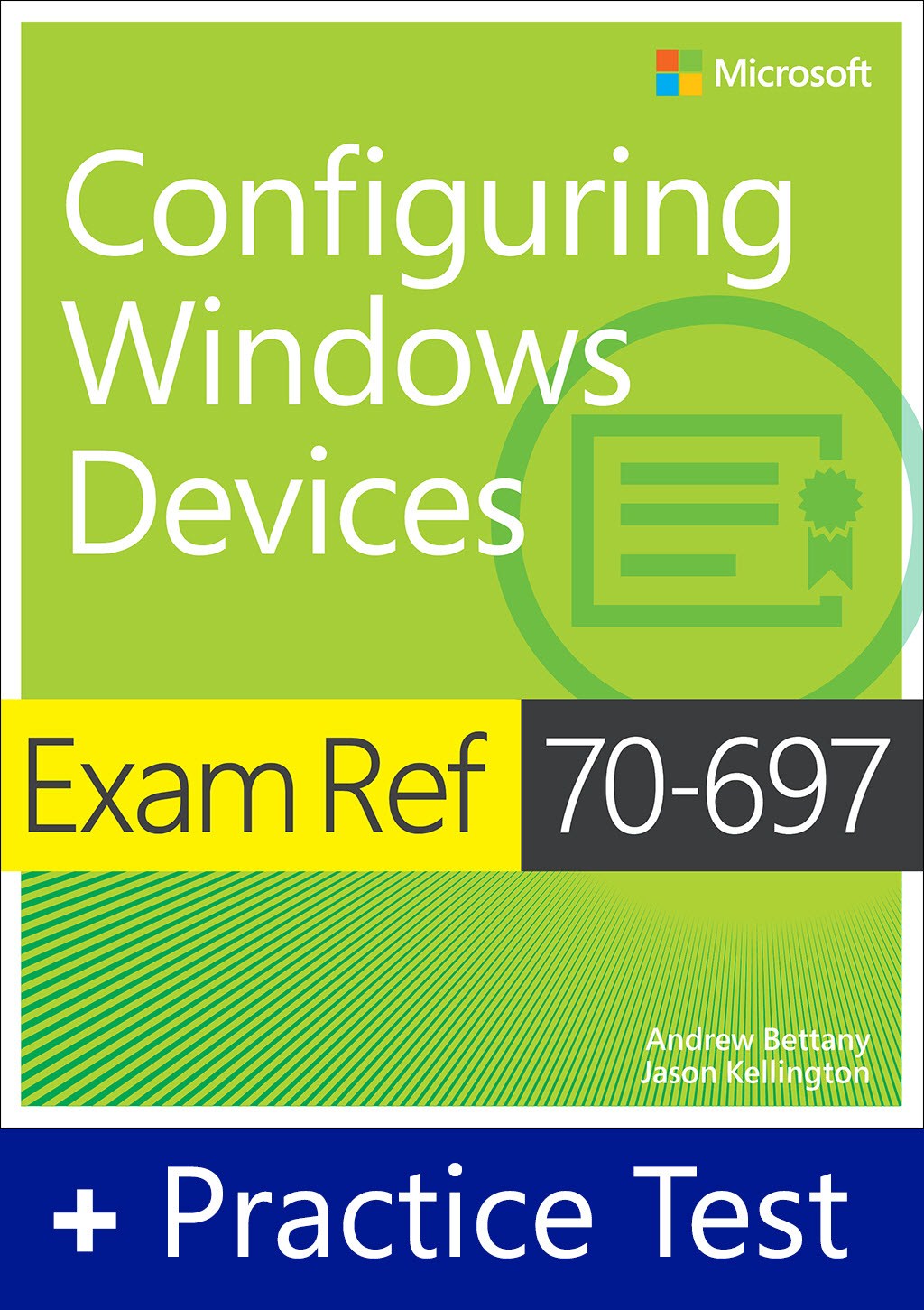 Not for sale
Sorry, this book is no longer in print.
Published 11/16/2015
1st Edition
About the Book
Prepare for Microsoft Exam 70-697--and help demonstrate your real-world mastery of configuring Windows 10 devices in the enterprise. Designed for experienced IT pros ready to advance their status, this Exam Ref focuses on the critical-thinking and decision-making acumen needed for success as a Microsoft specialist.

Focus on the expertise measured by these objectives:
Manage identity
Plan desktop and device deployment
Plan and implement a Microsoft Intune device management solution
Configure networking and storage
Manage data access and protection
Manage remote access
Manage apps
Manage updates and recovery
This Microsoft Exam Ref:
Organizes its coverage by exam objectives
Features strategic, what-if scenarios to challenge you
Assumes you have experience with Windows desktop administration, maintenance, and troubleshooting; basic experience and understanding of Windows networking; and introductory-level knowledge of Active Directory and Microsoft Intune
About the Practice Test
This Microsoft Official Practice Test is powered by MeasureUp
This test contains 75 questions and covers the following objectives:
Manage Identity - 10 questions
Plan Desktop and Device Deployment - 8 questions
Plan and Implement an Intune Device Management Solution - 8 questions
Configure Networking - 9 questions
Configure Storage - 8 questions
Manage Data Access and Protection - 8 questions
Manage Remote Access - 8 questions
Manage Apps - 8 questions
Manage Updates and Recovery - 8 questions
Why Choose the Microsoft Official Practice Test powered by MeasureUp?
Their quality content and innovative technology have earned the prestigious credential of Microsoft Certified Practice Test Provider.
Online performance-based simulations give hands on work environment experience
Questions are similar to exam questions so you test your knowledge of exam objectives
Detailed explanations for both correct and distractor answers reinforce the material
Study Mode covers all objectives ensuring topics are covered
Certification Mode (timed) prepares students for exam taking conditions
Instant, drill-down score reports tell you exactly the areas to focus on
How to obtain the Practice Test
The Official Microsoft Practice Test offered with this book is fulfilled by MeasureUp.com. With your order, you will receive a product key on your Account Page. Registering the product key at MeasureUp.com will give you access to a downloadable practice test which does not expire as well as 30-day access to the online version.
Before accessing your practice test, you will be required to create an account at MeasureUp.com if you don't already have one.
The downloadable practice test is licensed by MeasureUp for a single user and can be downloaded on up to three different devices. Downloading practice tests to virtual machines is prohibited.
Table of Contents
Introduction xv
Microsoft certifications xvi
Acknowledgments xvi
Free ebooks from Microsoft Press xvi
Microsoft Virtual Academy xvii
Errata, updates, & book support xvii
We want to hear from you xvii
Stay in touch xvii
Preparing for the exam xix
Chapter 1: Manage identity 1
Objective 1.1: Support Windows Store and cloud apps 1
Integrate Microsoft account and personalization settings 1
Install and manage software 5
Sideload apps into offline and online images 9
Sideload apps by using Microsoft Intune 12
Deep link apps using Microsoft Intune 15
Objective summary 16
Objective review 17
Objective 1.2: Support authentication and authorization 18
Support user authentication 19
Support workgroup, homegroup, and domain membership 23
Configure local accounts and Microsoft accounts 29
Configure Workplace Join 30
Configure Windows Hello 30
Objective summary 31
Objective review 32
Answers 34
Objective 1.1: Thought experiment 34
Objective 1.1: Review 34
Objective 1.2: Thought experiment 35
Objective 1.2: Review 36
Chapter 2: Plan desktop and device deployment 39
Objective 2.1: Migrate and configure user data 39
Configure user profiles 40
Configure folder location 42
Migrate user profiles 43
Objective summary 46
Objective review 46
Objective 2.2: Configure Hyper-V 47
Create and configure virtual machines 47
Create and manage checkpoints 51
Create and configure virtual switches 52
Create and configure virtual disks 53
Move virtual machine storage 54
Objective summary 56
Objective review 56
Objective 2.3: Configure mobility options 57
Configure offline file policies 58
Configure sync options 59
Configure power policies 60
Configure Windows To Go 63
Configure Wi-Fi Direct 65
Objective summary 66
Objective review 67
Objective 2.4: Configure security for mobile devices 68
Configure BitLocker 68
Configure startup key storage 72
Objective summary 73
Objective review 73
Answers 75
Objective 2.1: Thought experiment 75
Objective 2.1: Review 75
Objective 2.2: Thought experiment 76
Objective 2.2: Review 76
Objective 2.3: Thought experiment 77
Objective 2.3: Review 77
Objective 2.4: Thought experiment 78
Objective 2.4: Review 78
Chapter 3: Plan and implement a Microsoft Intune device management solution 81
Objective 3.1: Support mobile devices 81
Support mobile access and data synchronization 82
Supporting mobile access with Sync Center 83
Support broadband connectivity 84
Support Mobile Device Management 85
Objective summary 88
Objective review 88
Objective 3.2: Deploy software by using Microsoft Intune 89
Use reports and In-Console Monitoring to identify required updates 89
Approve or decline updates 92
Configure automatic approval settings 93
Deploy third-party updates 95
Objective summary 96
Objective review 96
Objective 3.3: Manage devices with Microsoft Intune 97
Provision user accounts 98
Enroll devices 100
View and manage all managed devices 101
Configure Microsoft Intune subscriptions 102
Configure the Microsoft Intune connector site role 105
Manage user and computer groups 105
Configure monitoring and alerts 107
Manage policies 109
Objective summary 113
Objective review 114
Answers 115
Objective 3.1: Thought experiment 115
Objective 3.1: Review 115
Objective 3.2: Thought experiment 116
Objective 3.2: Review 116
Objective 3.3: Thought experiment 117
Objective 3.3: Review 117
Chapter 4: Configure networking 119
Objective 4.1: Configure IP settings 119
Connect to a network 119
Configure name resolution 125
Configure network locations 127
Objective summary 130
Objective review 130
Objective 4.2: Configure network settings 131
Connect to a wireless network 131
Manage preferred wireless networks 132
Configure network adapters 133
Configure location-aware printing 133
Objective summary 135
Objective review 136
Objective 4.3: Configure and maintain network security 137
Configure Windows Firewall 137
Configure Windows Firewall with Advanced Security 139
Configure connection security rules with IPsec 143
Configure authentication exceptions 145
Configuring network discovery 146
Objective summary 147
Objective review 147
Answers 149
Objective 4.1: Thought experiment 149
Objective 4.1: Review 149
Objective 4.2: Thought experiment 150
Objective 4.2: Review 150
Objective 4.3: Thought experiment 151
Objective 4.3: Review 151
Chapter 5: Configure storage 153
Objective 5.1: Support data storage 153
Distributed File System 154
Supporting Storage Spaces 157
Support OneDrive for Business 162
Objective summary 166
Objective review 167
Objective 5.2: Support data security 168
Manage permissions including Sharing, NTFS and Dynamic Access Control 168
Troubleshooting Encrypting File System 173
Controlling access to removable media 176
Supporting BitLocker and BitLocker To Go 177
Understanding Microsoft BitLocker Administration and Monitoring 187
Objective summary 191
Objective review 192
Answers 194
Objective 5.1: Thought experiment 194
Objective 5.1: Review 194
Objective 5.2: Thought experiment 195
Objective 5.2: Review 196
Chapter 6: Manage data access and protection 199
Objective 6.1: Configure shared resources 199
Configure HomeGroup settings 200
Configure libraries 202
Configure shared folder permissions 205
Configure shared printers 210
Configure OneDrive 216
Objective summary 223
Objective review 224
Objective 6.2: Configure file and folder access 225
Encrypt files and folders by using Encrypting File System 225
Configure NTFS permissions 230
Configure disk quotas 238
Configure object access auditing 240
Configure authentication and authorization 244
Objective summary 250
Objective review 251
Answers 252
Objective 6.1: Thought experiment 252
Objective 6.1: Review 252
Objective 6.2: Thought experiment 253
Objective 6.2: Review 254
Chapter 7: Manage Remote Access 255
Objective 7.1: Configure remote connections 255
Configure remote authentication 256
Configure VPN connections and authentication 256
Enable VPN Reconnect 262
Configure broadband tethering 263
Configure Remote Desktop settings 266
Objective summary 272
Objective review 273
Objective 7.2: Configure mobility options 273
Configure offline file policies 274
Configure power options 277
Configure sync options 286
Configure Wi-Fi Direct 293
Objective summary 295
Objective review 296
Answers 297
Objective 7.1: Thought experiment 297
Objective 7.1: Review 297
Objective 7.2: Thought experiment 298
Objective 7.2: Review 298
Chapter 8: Manage apps 301
Objective 8.1: Deploy and manage Azure RemoteApp 301
Configure RemoteApp and Desktop Connections settings 302
Configure Group Policy Objects for signed packages 305
Subscribe to the Azure RemoteApp and Desktop Connections feeds 305
Support iOS and Android 306
Configure Remote Desktop Web access for Azure RemoteApp distribution 306
Objective summary 307
Objective review 307
Objective 8.2: Support desktop apps 308
Support desktop app compatibility by using Application Compatibility Toolkit 308
Support desktop application co-existence 313
Install and configure User Experience Virtualization 319
Deploy desktop apps by using Microsoft Intune 320
Objective summary 323
Objective review 324
Answers 326
Objective 8.1: Thought experiment 326
Objective 8.1: Review 326
Objective 8.2: Thought experiment 326
Objective 8.2: Review 327
Chapter 9: Manage updates and recovery 329
Objective 9.1: Configure system recovery 329
Configure a recovery drive 330
Configure system restore 332
Perform a refresh or recycle 339
Perform a driver rollback 342
Configure restore points 344
Objective summary 350
Objective review 350
Objective 9.2: Configure file recovery 351
Configure File History 352
Restore previous versions of files and folders 355
Recover files from OneDrive 357
Objective summary 360
Objective review 361
Objective 9.3: Configure and manage updates 361
Configure update settings 362
Configure Windows Update policies 366
Manage update history 370
Roll back updates 372
Update Windows Store apps 376
Objective summary 379
Objective review 380
Answers 381
Objective 9.1: Thought experiment 381
Objective 9.1: Review 381
Objective 9.2: Thought experiment 382
Objective 9.2: Review 382
Objective 9.3: Thought experiment 383
Objective 9.3: Review 384
Index 385
Other titles you might like

eBook (Watermarked) $25.59


eBook (Watermarked) $28.79