Exam Ref with Practice Test FAQs
Microsoft Official Practice Tests, fulfilled by MeasureUp.com, are now available for purchase with many Exam Ref books and eBooks in the Microsoft Press Store.
Q. Why should I choose the Microsoft Official Practice Test powered by MeasureUp?
A. MeasureUp's quality content and innovative technology has earned the prestigious credential of Microsoft Certified Practice Test Provider.
Online performance-based simulations give hands on work environment experience
Questions are similar to exam questions so you test your knowledge of exam objectives
Detailed explanations for both correct and distractor answers reinforce the material
Study Mode covers all objectives ensuring topics are covered
Certification Mode (timed) prepares students for exam taking conditions
Instant, drill-down score reports tell you exactly the areas to focus on
Q. How do I purchase Exam Ref books or eBooks + practice test?
A. Exam Ref titles sold with Microsoft Official Practice Tests include "with Practice Test" in the product title. Explore your purchase options here. After completing your order, you will receive a product key on your Account Page. Registering the product key at MeasureUp.com will give you a downloadable practice test which does not expire, as well as 30-day access to the online version.
Please note: Before accessing your practice test, you will be required to create an account at MeasureUp.com if you don't already have one. The downloadable practice test is licensed by MeasureUp for a single user, and can be downloaded on up to three different devices. Downloading practice tests to virtual machines is prohibited.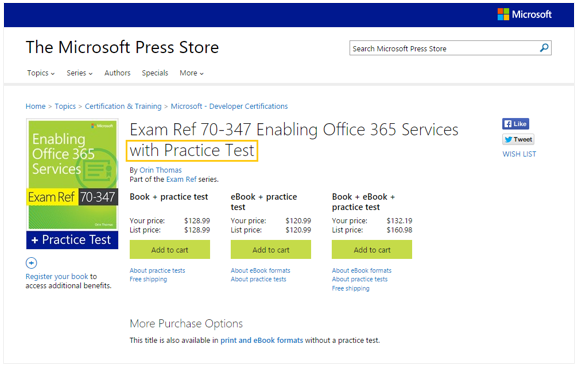 Q. Can I still buy Exam Ref books or eBooks without practice test access?
A. Yes, look for "More Purchase Options" links or listings without "Practice Test" in the title.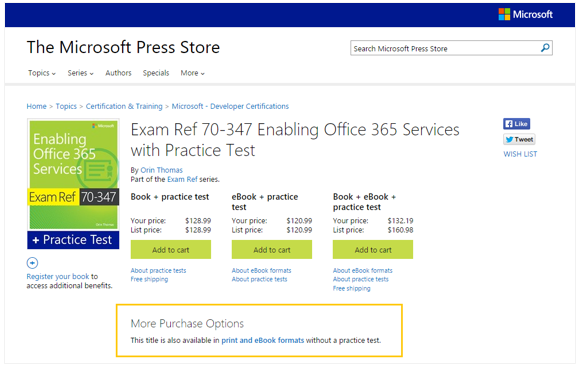 Q. If I already purchased an Exam Ref book or eBook, can I buy the practice test individually?
A. Practice tests cannot be added to previous microsoftpressstore.com purchases. However, Microsoft Official Practice Tests are for sale individually at MeasureUp.com.
Q. Do discount codes or other promotions apply to the purchase of practice tests?
No. Discount codes are not valid on Microsoft Official Practice Tests fulfilled by MeasureUp, but can apply to eligible books or eBooks in your microsoftpressstore.com purchase.
If you have additional questions, please email customer service.